iPad 2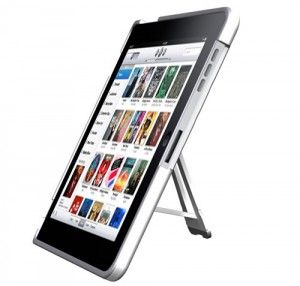 Produttore:
Apple
Modello:
2
Dimensioni:
Peso: 601 gr.
Altezza: 241 mm.
Larghezza: 186 mm.
Profondità : 9 mm.
Display:
Display: 768×1024
Caratteristiche: 9,7 pollici
Colori: Si
Touchscreen: Si
Multi-touch: Si
Accelerometro: Si
Sensore di prossimità: Si
Sensore di luminosità: Si
Anti impronte: Si

Batteria:
Batteria: Li-Po 25Whr

Hardware e SO:
SO: iOS 4.3
Processore: Apple A5 a 2x1 GHz dual core

Funzioni di base:
Rubrica: No
Fotorubrica: No
Vibracall: No
Voice Memo: No
Vivavoce: No
Scrittura Facilitata: Si
Tastiera Qwerty: Si
Connettività:
Usb: Si, 2.0
Miniusb: Si
PC Sync: Si
Push to Mail: Si
Bluetooth: Si, 2.1
Wi-Fi: Si, 802.11 a/b/g/n
Push to Talk: No
Irda: No
Browser:
HTML: Si
HTM: Si
Supporto Reti:
Hsdpa/Gsm: Si, (900/1800/1900)
Umts: Si, 384 kbps
Gprs: Si
Hsdpa: Si
Hscsd: No
Imode: No
Wap: Si, 2.0.0
Lte: No
Edge: Si
Wimax: No
GPS:
AGPS: Si
Google Maps: Si
Altri: Si
Comunicazione:
Sms: Si
Mms: Si
E-mail: Si
Fax: No
Ems: Si
Istant Msn: Si
Multimedia:
Loghi: No
Suonerie: No
Formati: -
Polifoniche: No
Lettore Mp3: Si
Lettore Mpeg4: Si
Radio FM: No
Visual Radio: No
Giochi: Si
Formati Audio e Video:
Formati Audio: MP3, AAC (8-320 kbps), HE-AAC, Audible (formati 2, 3, 4, AAX, AAX+, Audible Enhanced Audio), AIFF, Protected AAC, Apple Lossles, WAV
Formati Video: MPEG4, WMV, M4V, AVI, H.264, MOV
Memoria:
Interna: Si, 16384 Mb o 32768 Mb o 65536 Mb
Esterna: No
Fotocamera:
Fotocamera: Si (anteriore e posteriore)
Risoluzione Foto: -
Risoluzione Video: Si, 720p a 30 fps
Opzioni Fotocamera: zoom digitale 5x, geo taggiung
Video e TV:
Video: Si
Videostreaming: Si
Tv Mobile: No
Uscita Tv: Si
Claudio - Telefono News.